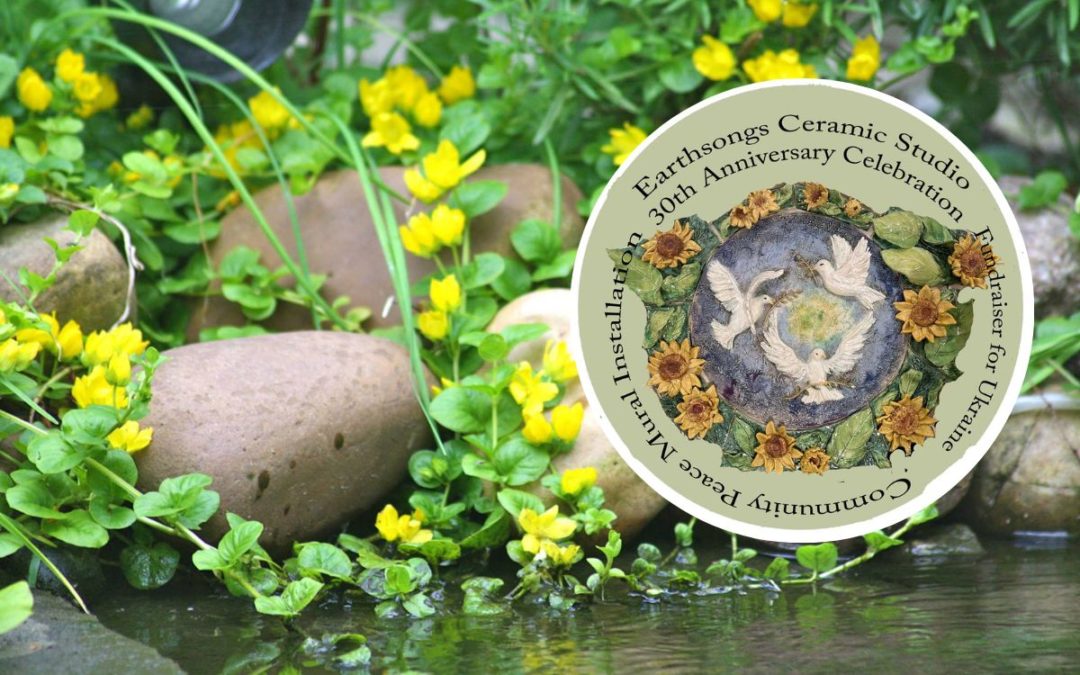 Earthsongs Ceramic Studio is celebrating its Thirtieth Anniversary with a full year of celebration…EVERYONE IS WELCOME!
Earthsongs is celebrating its thirtieth anniversary, with a full year of celebration, beginning June 24, 2023 through June, 2024. It is a wonderful thing to have been able to remain here creating art and adding to the life of the Borough for these years. I am so grateful to all those who have been part of the Studio and made it possible for me to create in clay:
To clients who commissioned work for installation as well as those who purchased moveable work for their home and as gifts
To those who attended the myriad workshops and classes I offered
To those who participated in the public art projects I led
To the other Metuchen businesses who carry and carried my work: Marafiki, Gardenia, and especially Papillon.
To the Metuchen Inn who continues to showcase my work and donate food for Gallery Openings and other special events
I am most grateful for your continuing support of the studio.
Because of what I have always seen as the mission and role of the studio:
Yes, creating art from clay, but about making an impact on the community and bringing people together through the arts,
it seems most appropriate that the thirty-year anniversary celebration, June 24, reflect that mission. As I envision the Anniversary Celebration, we will recognize the day by installing the Community Peace Mural (created August, 2022, by nearly 50 people during CLAY DAYS in METUCHEN) which speaks to peace around the world, but with a special eye to Ukraine. Hence, my hope is to create a celebratory event through this Anniversary that will not only be festive for all those who can be at Earthsongs that day, but raise funds specifically for the people of Ukraine.
SATURDAY, JUNE 24, 2023, 1-4pm
1pm | All are welcome to Earthsongs, visit the gardens and pond, enjoy some appetizer munchies. (The mural will be covered.)
1:30pm | The first 50 who donated $100 to Ukraine, will then be invited to a meal, completely donated by Hailey's Harp and Pub, at tables on the closed street of Bissette Place to enjoy with friends and neighbors.
2:30-3:00pm | Diners will be encouraged to return to Earthsongs
3:00pm | Unveiling of the Community Peace Mural, entertainment, desserts prepared by local residents from Ukraine.
How can you participate?
First, everyone is welcome! Feel free to bring friends!
The meal will be limited to the first 50 people who choose to donate $100 to the people of Ukraine.
All others are welcome to spend time in the gardens at Earthsongs, enjoy the snacks there, and, if you choose, offer whatever donation you wish to this cause.
Essentially meal choices will include: Hailey's special beef dish (Shepherds Pie), Hailey's famous chicken dish (Chicken Francese), and the Pub's so appreciated vegan dish (a Healthy Stew).
Donations can be made by check sent directly to Earthsongs, or via a Venmo.
Final date to reserve a space at the meal will be June 4.
We hope you will plan to join us for whatever parts of the celebration fit your interest and schedule.